forum-msg-id-129620-edit
Original date:2016-05-03 19:20:20 Edited by: ryanj Subject: RedyPad TextEditor
I decided to release a preview of the generic text editor i have been working on called RedyPad. The text editor library has MANY improvements and bug fixes compared to the one in the last version of RedyCode. I haven't released the source code yet, but it will be included with the next RedyCode release. Actually, the next version of RedyCode will be rewritten based on RedyPad's source.
Opening multiple files at the same time in tabs
Syntax highlighting (currently for Euphoria source only)
Smart indentation when pressing Enter on an indented line
Indent/unindent selected lines (Tab/Shift+Tab)
Word Wrap
Customizeable toolbars
Remembers window positions
Portable (no installation needed, just make sure RedyPad is able to write to the folder it is in, so it can save to a config file).
This is a preview version, i'm sure there are still bugs, so don't try to edit important files without a backup copy!
You may download the exe here: http://redy-project.org/files/RedyPad_0.5_preview.zip.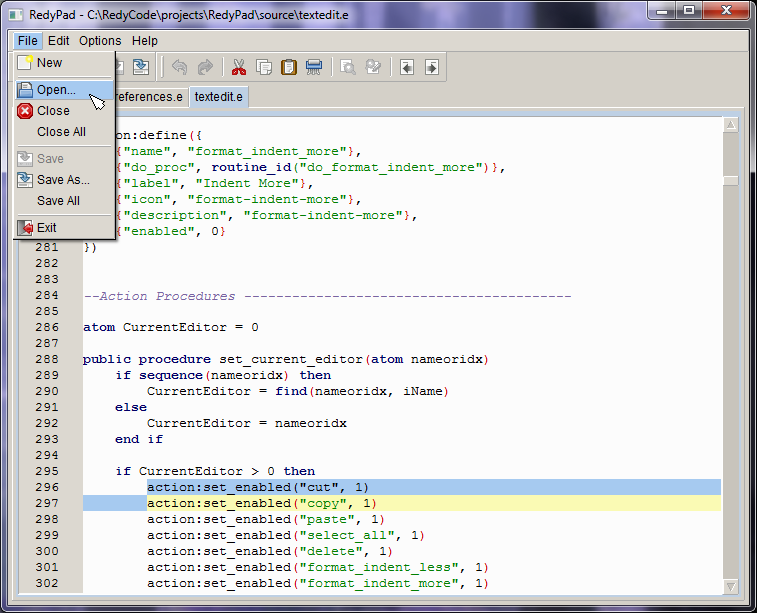 | | |
| --- | --- |
| Not Categorized, Please Help | |